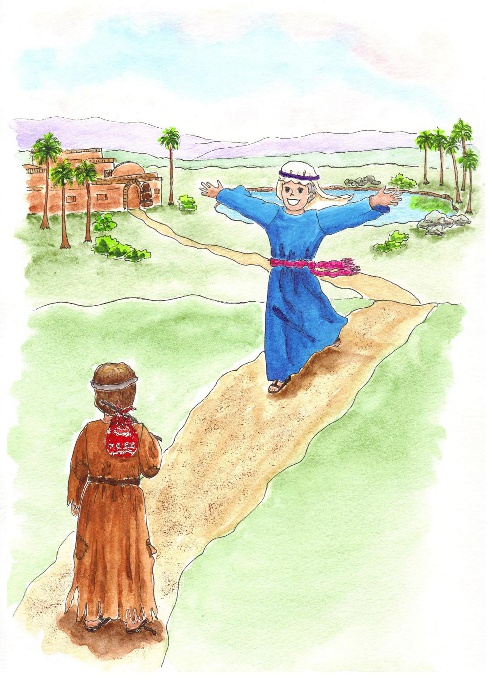 Copyright 2010 by S. Walton. All rights reserved. See copyright statement under About This Site.
Unless otherwise stated, all Scripture taken from the Holy Bible, NEW INTERNATIONAL VERSION®. Copyright © 1973, 1978, 1984 by Biblica, Inc. All rights reserved worldwide. Used pending permission. NEW INTERNATIONAL VERSION® and NIV® are registered trademarks of Biblica, Inc. Use of either trademark for the offering of goods or services requires the prior written consent of Biblica US, Inc.

Costume Versettes

"So he got up and went to his father. But while he was still a long way off, his father saw him and was filled with compassion for him; he ran to his son, threw his arms around him and kissed him."
Luke 15:20



_
_
The prodigal son was a character in a
parable
(story) that Jesus told about a young man who was anxious to leave home. The young man asked his father for his inheritance money before the normal time to receive it. Then he left home. For a while, he lived a wild, sinful, wasteful life. Then he went broke. When a famine came, he ended up taking a job feeding pigs. He was so hungry, he wished he could eat the pig food! Then he
finally
came to his senses. He
finally
realized he had been much better off at home!

__
The son returned home, but his father wasn't mad at him. Instead, the father joyously welcomed him! The son quickly apologized. Just as quickly, the father told his servants to bring a robe, a ring and shoes for his son. The father also told his servants to prepare a celebration feast, saying, ""For this son of mine was dead and is alive again; he was lost and is found.'"

__
This story is a good example of how some people feel after they experiment with wild, sinful living. After they learn the hard (and typically painful) way that sinful living is not so great after all, many
finally
come to their senses and realize our Heavenly Father's way is best. The story is also a good example of unconditional love. Jesus used this story to show how even when we sin, if we are truly
contrite
(sorry), if we confess and repent, the Lord forgives us. He joyously welcomes us back, too (Luke 15:10, Is 55:7, Ps 51:17)!

__
Also keep this story in mind if you ever have a friend that runs away from home. Remind them how hard life is away from home. Tell your friend the story of the prodigal son. Encourage them to return to their parents, to get some help from a Christian church or to call a crisis runaway phone hotline.


[
Note
: The secular National Runaway Switchboard at 1-800-RUNAWAY (786-2929) provides free 24-hour confidential hotline services for youth in crisis, concerned friends and family members; crisis intervention; message relay between runaways and their parents/guardians; return-home transportation help; counseling and educational materials.]


Luke 15:17
"When he came to his senses, he said, 'How many of my father's hired men have food to spare, and here I am starving to death!'"

Luke 15:21
"The son said to him, 'Father, I have sinned against heaven and against you. I am no longer worthy to be called your son.'"

Joel 2:13
. . . Return to the LORD your God, for he is gracious and compassionate, slow to anger and abounding in love . . .

1 Cor 13:8
Love never fails. . . .


Additional Reference Verses

Luke 15:10
"In the same way, I tell you, there is rejoicing in the presence of the angels of God over one sinner who repents."

Is 55:7
Let the wicked forsake his way and the evil man his thoughts. Let him turn to the LORD, and he will have mercy on him, and to our God, for he will freely pardon.

Ps 51:17
The sacrifices of God are a broken spirit; a broken and contrite heart, O God, you will not despise.