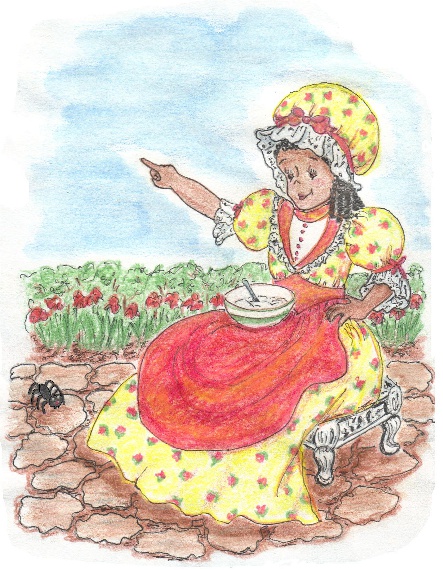 ___
Little Miss Muffet
sits down to eat in this well-known nursery rhyme and is frightened away by a spider. Our Miss Muffet girl shown here is demonstrating relying on God for strength and remembering that He is always with us. She firmly and courageously sends the spider away instead of being afraid.

___
For those times when you get scared or uncomfortable and don't know what to do, pray to Jesus for help. Even if all you can think of to say is, "Help me, Jesus," go ahead and say that. Prayer doesn't need to be fancy. Jesus will understand it and He will know what you need. He may do something like send an adult to help you, He may show you a way to escape from whatever the problem is or He may fix the problem. However, always remember that the Lord does not promise to help us if we are purposely doing something wrong. So do what is right, and lean on the Lord for strength!


Is 41:10
"So do not fear, for I am with you; do not be dismayed, for I am your God. I will strengthen you and help you; I will uphold you with my righteous right hand."

Eph 6:10
Finally, be strong in the Lord and in his mighty power.

For God hath not given us the spirit of fear; but of power, and of love, and of a sound mind.
2 Tim 1:7 (KJV)


Costume Versettes

Copyright 2010 by S. Walton. All rights reserved. See copyright statement under About This Site.
Unless otherwise stated, all Scripture taken from the Holy Bible, NEW INTERNATIONAL VERSION®. Copyright © 1973, 1978, 1984 by Biblica, Inc. All rights reserved worldwide. Used pending permission. NEW INTERNATIONAL VERSION® and NIV® are registered trademarks of Biblica, Inc. Use of either trademark for the offering of goods or services requires the prior written consent of Biblica US, Inc.