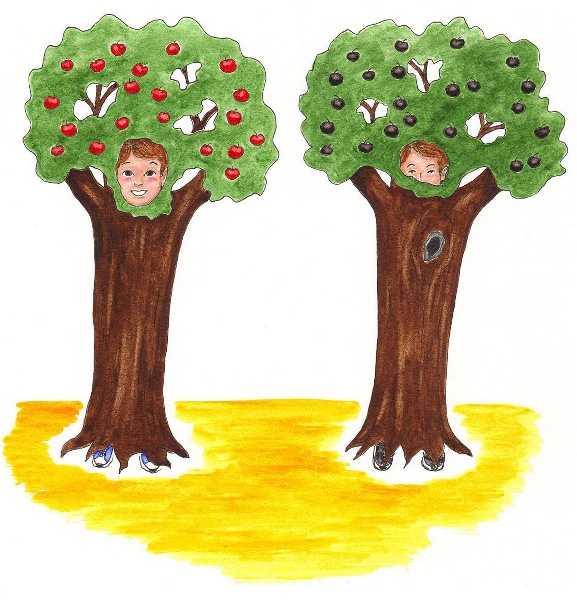 Costume Versettes

Copyright 2010 by S. Walton. All rights reserved. See copyright statement under About This Site.
Unless otherwise stated, all Scripture taken from the Holy Bible, NEW INTERNATIONAL VERSION®. Copyright © 1973, 1978, 1984 by Biblica, Inc. All rights reserved worldwide. Used pending permission. NEW INTERNATIONAL VERSION® and NIV® are registered trademarks of Biblica, Inc. Use of either trademark for the offering of goods or services requires the prior written consent of Biblica US, Inc.

. . . "by their fruit you will recognize them."
Mat 7:20


___
If a tree has normal apples on it, you know the fruit is good. However, if a tree
looks
like an apple tree, but is producing black fruit, there is probably something seriously wrong with the tree, right? In the same way, if a person's heart is good, they will do good things. That is, they will practice "good fruits," such as: love, joy, peace, patience, kindness, goodness, faithfulness, gentleness and self-control. These are the fruits of the Spirit (Gal 5:22-23) working in their lives and helping them to "walk in the light" (1 John 1:6-7) and to do good deeds (produce good fruits--Prov 11:30). On the other hand, if a person's heart is evil, they will do bad things (produce "bad fruits").

___
Sometimes we can learn a lot about someone from what they say. Sometimes we can't. So if Person X takes the Lord's name in vain, swears, tells dirty jokes or gossips, he is
obviously
not producing good fruits. Stay away from him! Now consider Persons Y and Z, both of whom always speak well in front of you. Person Z is actually very nice and a good Christian. What you don't know is person Y is mean, dishonest, a skillful liar, hides his normal language from you and is adept at manipulating others with charming words! Yikes!

___
Can you see that it can be especially hard to judge a person's true character by words alone? So, a useful tool is to also look beyond what people SAY and watch what they actually DO (what kind of fruits they are producing)! The Bible tells us we can recognize people by these fruits. That's because actions are the real truth-teller…..they speak louder than words (Titus 1:16, 1 John 3:7-8, 10).

___
If you ignore someone's actions and trust them based only on what they say, it can cause you real problems! For instance, they may lie and claim they are a Bible-believing Christian, but later not act like one and treat you badly (1 John 2:4-6). Or they may break an important promise, causing you harm or loss. Or they may claim they only want what's best for you, but then later try to lead you into sin, to hurt you or to hurt your loved ones in some way.

___
Want to stay safer, happier and healthier? Think of people like fruit trees. Find others whose good fruits clearly show they, like you, also love and are "rooted" in Jesus (John 14:15, Col 2:6-7). Keep the
true
apple trees. Avoid the pretenders!


Luke 6:44-45
"Each tree is recognized by its own fruit . . . The good man brings good things out of the good stored up in his heart, and the evil man brings evil things out of the evil stored up in his heart. For out of the overflow of his heart his mouth speaks."

Mat 7:18
"A good tree cannot bear bad fruit, and a bad tree cannot bear good fruit."

Eph 5:8-11
. . . Live as children of light (for the fruit of the light consists in all goodness, righteousness and truth) and find out what pleases the Lord. Have nothing to do with the fruitless deeds of darkness, but rather expose them.


Additional Reference Verses

Gal 5:22-23
But the fruit of the Spirit is love, joy, peace, patience, kindness, goodness, faithfulness, gentleness and self-control . . .

1 John 1:6-7
If we claim to have fellowship with him yet walk in the darkness, we lie and do not live by the truth. But if we walk in the light, as he is in the light, we have fellowship with one another, and the blood of Jesus, his Son, purifies us from all sin.

Prov 11:30
The fruit of the righteous is a tree of life, and he who wins souls is wise.

Titus 1:16
They claim to know God, but by their actions they deny him. They are detestable, disobedient and unfit for doing anything good.

1 John 3:7-8
Dear children, do not let anyone lead you astray. He who does what is right is righteous, just as he is righteous. He who does what is sinful is of the devil . . .

1 John 3:10
This is how we know who the children of God are and who the children of the devil are: Anyone who does not do what is right is not a child of God; nor is anyone who does not love his brother.

1 John 2:4-6
The man who says, "I know him," but does not do what he commands is a liar, and the truth is not in him. But if anyone obeys his word, God's love is truly made complete in him. This is how we know we are in him: Whoever claims to live in him must walk as Jesus did.

John 14:15
"If you love me, you will obey what I command."

Col 2:6-7
So then, just as you received Christ Jesus as Lord, continue to live in him, rooted and built up in him, strengthened in the faith as you were taught, and overflowing with thankfulness.